Leslie Hoffman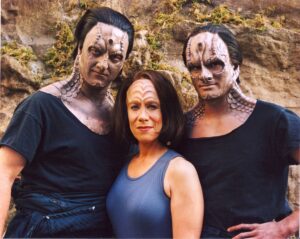 Star Trek fan and upstate New York native Leslie Hoffman boldly goes where Klingons fear to tread – literally; as Roxann "B'Elanna Torres" Dawson's double on Star Trek: Voyager, Leslie would take over when shooting a particular scene was too dangerous for the real Klingon engineer.  Leslie worked regularly on both Star Trek: Deep Space Nine and Voyager, including work as assistant stunt coordinator.
While her interests at a very young age led her to gymnastics, ballet and acting classes, she found exhilaration in action and thus went on to a career as a stuntwoman.  As she perfected the art of falls, fighting and fencing in Santa Monica, she begin working in the TV industry, performing stunts on such shows as The Love Boat, Fantasy Island, and M*A*S*H.
Leslie was also getting involved behind the scenes in stunt work, becoming the first stuntwoman elected to the Board of Directors of the Screen Actors Guild, joining other industry organizations, and became National Chairwoman of the Stunt and Safety Committee.  Leslie strongly felt that safety was paramount to any stuntperson's career and began teaching about safety in stunts.
Arguably her most well-known film work was in A Nightmare on Elm Street's "Hey Nancy! No running in the hallway!" scene, and Naked Gun's Queen Elizabeth's slide across the banquet table.  Most of her Trek work was as Dawson's stunt double, appearing, amongst other episodes, in "Remember," "Blood Fever," "Extreme Risk" in an orbital skydiving suit, and in an entire fight scene in "Day of Honor" where she kept switching places with Dawson in the fight while the camera never stopped – watch the episode again!
This year's edition of Trekonderoga offers you a chance to meet Leslie, the talented stuntwoman behind those dangerous stunts you've seen on-screen in many DS9 and Voyager episodes – don't miss it!
Appears Friday, Saturday, & Sunday