Michael Okuda
As the lead graphic designer for Star Trek, Michael Okuda has earned screen credit on more Star Trek productions than anyone except Gene Roddenberry. Michael was responsible for the control panels, computer readouts, alien written languages, and other cool stuff in Star Trek: The Next Generation through Enterprise, and on Star Trek movies 4-10. Michael's life-long fascination with the real space program led him to design numerous emblems for NASA, including the crew mission patch for the STS-125 flight of Space Shuttle Atlantis. Michael has been recognized with three Primetime Emmy nominations for Best Visual Effects and with NASA's Exceptional Public Service Medal.
Additional credits for Michael Okuda: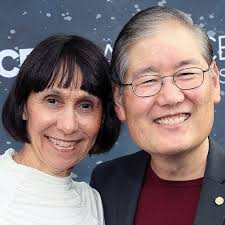 http://www.imdb.com/name/nm0645763/
Animation samples:
Denise Okuda
Denise Okuda served as video/computer playback supervisor and graphic artist for Star Trek: Deep Space Nine, Voyager, and Enterprise, as well as for several Star Trek movies. Denise, along with her husband, was an artistic consultant and creative producer for CBS Home Entertainment's remastered version of Star Trek: The Next Generation, and the remastered original Star Trek series. The couple are authors of several books including the Star Trek Encyclopedia and co-producers of The Roddenberry Vault. Denise is a member of the Art Directors Guild and lives in Los Angeles, California, with her husband and their dogs, Amber Joy and Scooter T. Rocketboy.
Additional credits for Denise Okuda: